BENVENUTI
[(Traduce) Translate Page in Italian]
[Listen to "Tarentella"! mp3]

The West Virginia Italian Heritage Festival will celebrate its 36th Anniversary, August 29, 30 and 31, 2014. The WVIHF has been rated among the "Top 100 Events in North America" by the ABA, a "Top 20 Event by the Southeast Tourism Society" & one of the "Top 4 Italian Festival's" in the nation by the National Sons of Italy.




The Festival Children's Chorus in memory of Florence Chico Cann
will sing for the Feast of Seven Fishes on Saturday, December 13th in Fairmont at 10:45 am.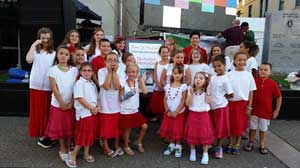 Rehearsal will be as follows at Miss Rita's Studio:
Wednesday, 12/3 from 4-5:30 p.m.
Sunday, 12/7 from 6-7:30 p.m.
Monday, 12/8 from 4-5:30 p.m.
Friday, 12/12 from 3:30-4:30 p.m.

Performance: Saturday, December 13th at 10:45 am. Choristers report to the Old Fire Hall dressed, in red and green caroller wear, vocally warmed-up and ready to sing no later then 10:30 a.m.

Call or text the director to register. Please put these dates on your calendar and plan to participate! Bring a sibling, friend or cousin too!

Grazie! Viva La Musica!
Miss Rita
304-669-0126

It was born out of Love,
Love, and a pride in the cultural heritage of Italian-Americans in West Virginia, that gave life to the idea of a Festival in Clarksburg to honor the past, celebrate the present, and preserve rich traditions for future generations.

During the first West Virginia Italian Heritage Festival in 1979, the wine flowed, tantalizing arrays of delectable food abounded and the music was fast-paced. With color, pageantry, entertainment, events, contests, exhibitions and displays packing the streets of uptown Clarksburg, the Festival was an instant success.


With each successive year, the little Festival has grown, and now is rated one of the "Top 100 Events in North America" including Canada. Each year, this 3-day street festival brings over 100,000 visitors to Clarksburg.

From the opening ceremonies, when the royal court of Regina Maria (Regina meaning "Queen" and Maria the name of the first queen of Italy), is crowned, to its conclusion with the traditional festival dance, the West Virginia Italian Heritage Festival overflows with enjoyment.

Please join us to celebrate our 36th Annual Celebration! This year promises to carry on its tradition of being one of the state's most spectacular and colorful events!

Entertainment and Events for All Ages
The West Virginia Italian Heritage Festival offers events, authentic Italian cuisine and "fun and games" for people of all ages. A special "children's" area and stage has been added over the years that is designed to entertain the smaller children during the entire Festival, from Happy the Clown to magicians and music.

Top-named entertainers can be found on the main stage during the Festival. Previous years, Festival goers have enjoyed such notables as Tony Danza, Kathy Mattea, Jo Dee Messina, Steve Augeri, Joey Dee and the Starliters, and Frankie Avalon - all free of charge to the public.